WELCOME TO BRIGHTON ZUMBA®
Find out why more people stick to Zumba® than any other workout!
What is Brighton Zumba®?
Brighton Zumba® hold the most exciting, energetic, friendly and professional Zumba® classes in Brighton.
Lessons are held 5 times a week in central Brighton at St Paul's School, St Nicholas Road, Brighton, BN1 3LP. Each class is an hour long and there is free on site parking.
View our timetable
Zumba is a Latin inspired, easy to follow, dance-fitness party that exhilarates your senses and works all your major muscle groups in a high energy cardio blast.


Brighton Zumba teaches people of all abilities, ages (minimum 15 years old) and fitness levels. You don't need to be a dancer or have any prior experience, the only thing you have to do is keep moving!


Zumba features exotic rhythms like salsa, merengue, cumbia and samba set to sexy latin and international beats.

(Get a taste of one of our classes from the video at the bottom of this page!)
Meet Sherryn, Brighton Zumba's instructor

"Hey! I'm Sherryn and I've been teaching Zumba in Brighton since 2010 and after 9 years I still absolutely love teaching each and every class. Before Zumba, I worked as a professional performer in the world of musical theatre, I now teach Zumba and dance full time. I feel very grateful to still be able to teach Zumba after so many years. Many people thought Zumba was just a fad, but my classes prove that Zumba is one of the best dance fitness programmes out there. Come along to a class with me and you'll see why people are still hooked.

I'm a licensed Zumba Fitness instructor (also known as 'ZIN'), a member of REPs, (Register of Exercise Professionals) fully insured and also hold a certificate in sports first aid.

Each year, I organise Brighton's largest Zumbathon charity event. With the help of the amazing Zumba community, we have raised over £100,000 so far for Martlets Hospice and hope to continue to raise much needed funds for this worthwhile local charity."
"I'm passionate that the programme really does change lives" - Sherryn - Brighton Zumba
Join in on the fun with instagram and Facebook!
Still not sure what Zumba® is? Get a taste from our video below! ↓
Classes are held 5x a week
St Paul's School
St Nicholas Road
Brighton, BN1 3LP
No need to book any classes, just turn up!

Classes are £8 each and every 10th class is free

Student discount is available

Free on-site parking
Check out some footage from one of our classes ↓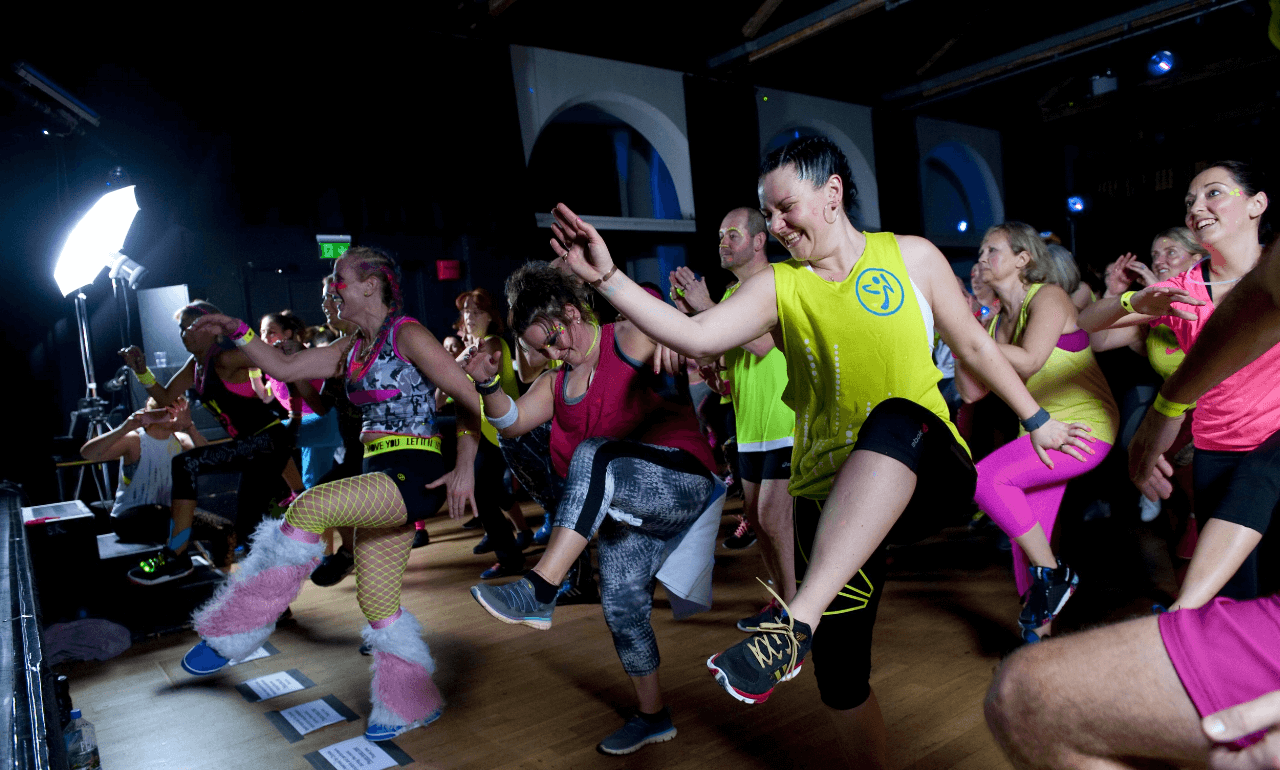 TESTIMONIALS
Real feedback from recent attendees
Join the conversation on our Facebook page
FAQ
Frequently asked questions
How many calories can I burn during a Zumba® class?
The number of calories each person burns per class varies from 300 - 600
Are there any age restrictions?
You must be over 16 to take part in Zumba® Fitness. 13 - 15 year olds can attend if they are accompanied by a parent/guardian.
I have a previous Injury, can I still Zumba®?
Of course you can as long as it is detailed in your Physical Activity Readiness Questionnaire (PAR-Q) and I am made aware of it. When attending class you can take it at whatever pace is comfortable for you. Make sure you make me aware of any new illnesses or injuries before the start of class.
No, Zumba® is designed for everyone, no dance or fitness experience necessary. People of many different ages, body types, backgrounds, dance and fitness levels all come together to have fun and get into fabulous shape with Zumba®.
I'm unfit and have never done Zumba® before?
There is no need to worry if you have never taken part in a Zumba® class before. Zumba® uses a repetition of steps from class to class. Be patient and try it out a few times. After a few classes you will get familiar with the basic steps and my teaching methods. Before long you will be telling me what move is next! Most of all just have fun! There is no right or wrong way in Zumba®.
Should I eat before class?
Absolutely. You must fuel your body throughout the day. Eat a good substantial breakfast, good size lunch, a piece of fruit or light snack an hour before class and drink plenty of water before, during and after Zumba®.
£8 per class.
No. All classes are drop in sessions so there is no need to pre-book.
How long are the classes?
One hour
What should I bring to class?
Bring bottled water (although I always provide free water where possible) and a towel if needed - burning 300-600 calories can be pretty sweaty. The most important thing is a sense of humour!
What should I wear to class?
Wear loose comfortable clothing that gives you freedom of movement - T-shirts / Vest Tops with leggings / tracksuit bottoms. Ladies wear a supportive bra during Zumba (preferably a sports bra). Shoes should be comfortable with plenty of cushion and lateral support. You may find that running shoes or cross trainers have too much tread to allow for side-to-side movement. No barefoot or socks please.
CONTACT
Most commonly asked questions are answered in the F.A.Q but please get in contact if you couldn't find an answer. Hope to see you at a class soon! - Sherryn